Currently enrolled in COBRA?
COBRA is an acronym for the Consolidated Omnibus Budget Reconciliation Act (COBRA). COBRA is a health insurance program that allows eligible employees and their dependents the continued benefits of health insurance coverage.  This coverage typically lasts for a limited time when an employee loses their job or experiences a reduction of work hours.
COBRA savings from the American Rescue Plan will end on September 30th.  However, those who are currently enrolled in COBRA coverage can access the maximum amount of financial assistance through Pennie!
Anyone who was eligible for one week of unemployment compensation in 2021 will receive the maximum amount of financial assistance for the rest of the year, meaning $0 premiums and zero-dollar deductible plans.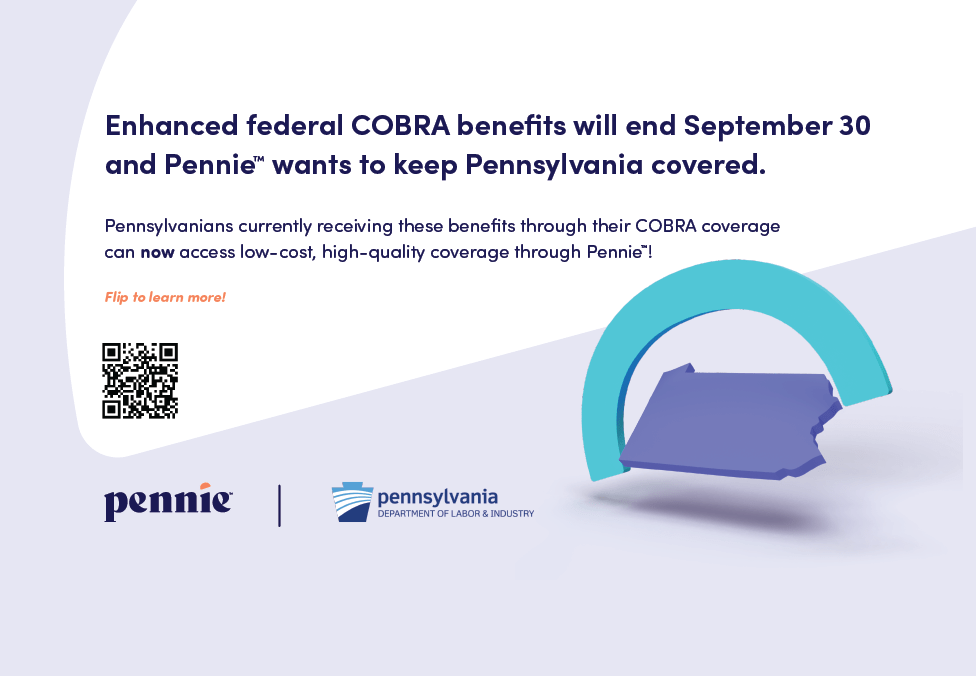 Pennie gets you covered.
Pennsylvanians enrolled in COBRA coverage may be eligible for a Special Enrollment Period through Pennie.  When the reduced COBRA premiums under the American Rescue Plan expire on September 30, we are here to help. 
This Special Enrollment Period opens on September 30 and runs through Monday, November 29, 2021. 
View Your Enrollment Options Today!
Frequently asked questions
Will those enrolled in COBRA coverage be eligible to enroll in Pennie coverage when their savings expire on Sept. 30?
Yes, individuals enrolled in COBRA coverage will be eligible for a Special Enrollment Period (SEP) to enroll in coverage through Pennie when the enhanced subsidies available under the American Rescue Plan expire.  You can apply for coverage through November 29, 2021.
Do I need to report additional unemployment insurance I'm receiving for 2021?
Yes. It is important to report all Unemployment Insurance benefits you receive in 2021 as income in your Pennie application. This includes the $300 per week federal benefit you may receive in addition to the general UI benefit provided by the Commonwealth. It is important to report any changes to your income on your Pennie application throughout the year.  
How does the American Rescue Plan impact how much I will spend on health insurance?
The American Rescue Plan lowers health insurance premiums on Pennie. If you were previously eligible for financial assistance, like advance premium tax credits (APTC), to lower the cost of health coverage, you will be eligible for additional financial assistance to further reduce the cost of coverage. If you previously did not qualify for financial assistance because your income was too high, you will now qualify.
Pennie Resources
Looking for more?
Check out even more resources to stay updated and learn how Pennie can connect you to the right insurance plan that provides you with additional peace of mind.
Still feeling a bit overwhelmed?  We've been there too - so we set up multiple ways of getting some help or guidance.